Scholarship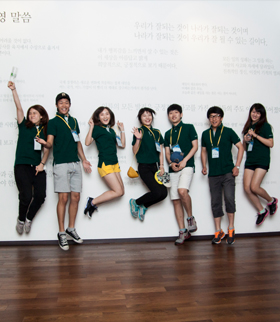 We hear the cheerful sapling's song
of hope
When people offer a little support to those youth who stay focused on their dreams, even when they encounter hardships, it is a form of expectation and investment in their future growth. And when the young, uplifted by that "little" support, push themselves to higher levels, the pleasure is all ours.
As each one of our saplings grows straight and becomes a pillar to support society, all of us at the ASAN Foundation feel pleased beyond our expectations. Scholarship is probably the best and most rewarding investment for the future of society. It is more than a personal loss when promising students are denied access to education for financial reasons: it is a waste of valuable social resources. The ASAN Foundation does not stop at helping bright students to continue their education.
By extending its scholarship program to students of low-income families or families with non-working parents, we pursue social equality through equal educational opportunity.
Support Results(1977 ~ 2022)
(Unit: no. of students, 100 million KRW)
Support Results(1977 ~ 2022)
Category
Total
Graduate
students
University
students
College
students
High school
students
Others
No. of students
35,891
753
15,305
4,231
14,508
1,094
Amount
818
61
577
115
59
6