Medical Services
Where the love of life blossoms,
there stands ASAN Medical Center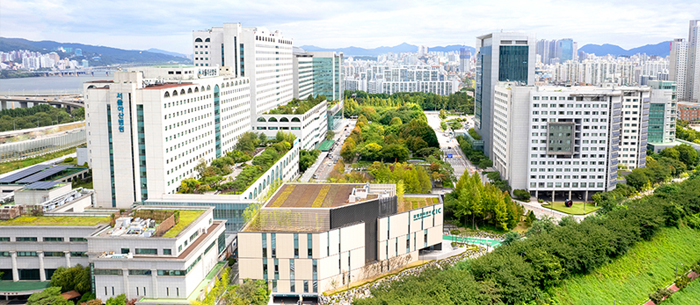 Since its establishment in June 23, 1989, AMC has achieved world-class medical performances as a leading hospital in Korea and the parent hospital to seven regional hospitals under the ASAN Foundation, and has continued to aggressively invest in R&D and clinical treatment, taking the head in medical development at home and abroad.
AMC has established a cutting-edge medical complex with 2,704 beds occupying a total floor area of 460,000 square meters (140,000 pyeong); treats 11,610 outpatients and 2,568 inpatients a day on average; and performs 63,118 highly sophisticated surgeries per year.
AMC holds an unchallenged position in the field of cancer surgery, organ transplantation, and cardiac treatment which are considered the essence of cutting-edge medicine. In Korea we perform the most surgeries on 9 out of 10 most common cancers and treat 10% of cancer patients every year. Also we perform 25% of organ transplantations and successfully do the largest number of stenting interventional procedure.
AMC is ceaselessly committed to the development of new drugs and treatment methods which are Korea's future growth engines by building an industry-university-institute network driven by hospital through a world-class bio-cluster - ASAN Institute for Life Sciences opened in 2011 and by cooperating with internationally renowned organizations such as the Dana-Farber Cancer Institute of the Harvard Medical School and Hyundai Heavy Industries.
AMC that leads medical development in Korea with a patient-centered treatment system and hospital culture and the outstanding outcomes of surgeries, will continue to do the best for becoming a world-class hospital and enhancing Korea's reputation as a medical powerhouse based on the challenging spirit of "Nothing is Impossible."
Until all diseases disappear from the face of earth
The ASAN Foundation's welfare operations began with a hospital in a remote corner of this nation. By bringing state-of-the-art hospitals to those who formerly had to walk all day to see a doctor, the Foundation has helped countless people to benefit from modern medicine. Through a free medical service, the Foundation has also helped the poor to lead healthier, more productive lives. Until all diseases disappear from the face of the earth, The ASAN Foundation will continue to share this love of life.
Starting with Jeong-Eup Hospital, built in 1977 in the southwest corner of Korea, the Foundation has been caring for people who had been denied modern medical benefits because of their geographic location. With high-tech equipment and first-rate professionals, the ASAN Foundation's seven regional hospitals offer a quality medical service that can be compared to that available at big-city hospitals. Moreover, these hospitals offer free house calls to the bedridden or those with special diseases.